Make sure you speak with us – Trans Global Logistics – first when importing a car to Cyprus, as it's important to know that the vehicle is entering Cyprus on a TOR -Transfer of Residence. Before you decide to ship your vehicle make sure that the age of the vehicle makes it worthwhile. Read more to find out why.
Here's an interesting Blog from one of our customers!
CHAPTER 1 LIMOSOL
Thinking of transporting your personal car to Cyprus? If you don't need to – then don't! Apparently, it used to be a simple process that may take a day or two- now it is a tortuous process that you will be lucky to see the end of! Things have changed after Brexit and Cypriots don't really like change anyway.
Once the car has arrived in Cyprus- usually at Limassol- the importer must present documents to Customs – this is the first hurdle. The documents requested are to prove who you are, where you lived in the UK and where you live in Cyprus. It also requires proof of the car, its ownership and registration and proof that you have owned it for a period of time (at least over 6 months I think). You will need 12 months bank statements from the UK, Utility bills from the UK, a copy of your driving licence, a copy of your passport and Cyprus identity card. If you are married a copy of your marriage certificate may also be required. Why? I do not know – but it must be vital!
You will need the car Log Book and any supporting documents like the purchase invoice from when you bought it, an insurance certificate, supporting service or repair invoices and of course the log book. You will also need to prove that you live in Cyprus! For this you will need a copy of your lease agreement if you are renting, utility bills relating to the property while you have lived there, bank statement from your Cypriot bank from 12 months ago to current times and a photo of your kitchen sink 😊.
All these documents should be put into a logical order and presented to the customs clerk who should review them, ask any salient questions, and approve your application. What she will actually do is look at the pile of papers with a look of panic on her face, shuffle them out of any recognisable order and tell you to apply again on another day at another city 😊.
We were told to apply at the Larnaca Customs Office with all the above information but with up-to-date bank statements etc. We put the whole bundle together and presented them as requested.
LARNACA CUSTOMS
Very helpful people. We were issued with a document- A C1040. This is a vital piece of paper which is a permission to use the car, on the roads, for a period of time, typically two months while the car is being registered. But it only used to take a couple of days?
Our information was passed over to a senior official who studied it all and took copies of all he thought was salient before passing it back to us. The copies, he said, would be sent to Nicosia for approval at the head office and we were free to drive around until we heard back from them.
Two months later we had to go back to Larnaca Customs and ask for an extension to form C1040. This happened a few times over the next fer months. Extension was granted and we continued to wait for registration approval.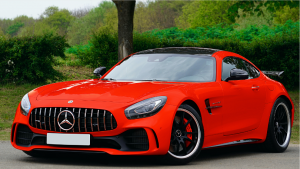 CHAPTER TWO: TOMS
We were called back after some time and informed that we needed a certificate of approval from TOMs. TOM's is the Department of Transport in Cyprus and is a law unto itself. After three attempts I finally got to speak to an official who knew something about their requirements. He showed me a stack of documents and indicated that this was just one application and that it had been in his office for two months waiting for attention. He asked me why I wanted to bring my car into Cyprus as though it was the most irresponsible and selfish thing to do! 😊
As his English was not too good and my Greek non-existent, we made a vague appointment for me to see one of his colleges the following Thursday at 11 am.
It gets warm in Cyprus after 10am most days. At the subsequent meeting I was told that I needed an HPI check (Outstanding finance agreement) and a MOT. I had no idea how to obtain an HPI check but fortunately there was a lady there who seemed to enjoy sorting out such problems from the canteen. The MOT was relatively easy – booked into a garage and job done.
I then tried to make another appointment, armed with the HPI certificate and MOT. Appointments cannot be made – If you need anything, then just turn up and hope for some attention…
Fortunately, at this point I met a self-employed lady (I would recommend her to anyone) who had set up a lucrative business dealing with TOM's, Customs and Uncle Tom Cobley and all. However, it still wasn't plain sailing. We managed a meeting with a TOMs representative. He gave us a list indicating the information/ documents required etc to register a vehicle over 5 years old (which mine is).
Most of the requirements are exactly the same as required and already submitted to Customs. Why then do TOMS's require it? However, there are more documents/ proofs required: A sworn declaration, stamped by the Court, stating that I own the car, that the car is the car in question and that I have not imported or registered any other car over 5 years old into Cyprus. Photocopy of ALL pages of my passport and… Cyprus Driving Licence. I did not have a Cyprus Driving Licence but did have an English one which was quite OK for any other purpose in Cyprus but not for registering the car. Ergo, I had to apply for a Cyprus Licence. To do this I required a Doctors Certificate but before I could have this, I needed a sight test and a hearing test. I also had to complete an application form (all in Greek) and provide – yes, you have guessed it (!!!)- loads of supporting documents, bank statements utility bills lease agreements etc, etc. The driving licence was applied for and granted- but my UK Licence was retained by TOM's.
At last TOM's were prepared to give me the certificate required by Customs.
CHAPTER THREE – Back to Customs
Whilst time was passing sorting out the TOM's requirements Customs had decided that they now needed more information. They needed more up-to-date bank statements (just in case I had left the country) from my Cyprus account. The same bank statements as they had already had from my UK account. The same utility bills from the UK as they had already had. Proof of delivery of our personal effects from the UK, copy of every page of my wife's passport and the TOM's Certificate- now available after blood, sweat and tears.
And finally- and the thing to cause most distress – a statement of time spent in Cyprus over the last two years. Irrespective of the reasons why time had been spent here, we could not have a period of more than 180 days in Cyprus without the car (!!!) and still expect to bring it into the country as a personal import. Yes, totally without any logic but it is the law. We were told that we had some options:
Re-export the car
Destroy it under Customs supervision
Abandon it to Customs
Store it in a Customs warehouse or
Payment of Customs duties and VAT (Supposedly not possible for a car over 5 years old)
We wrote a letter of appeal which was the last option open to us and sent a copy by email to Customs Nicosia and as requested took a physical copy to Customs Larnaka. As indicated earlier in this missive, the Larnaka staff were very helpful and understanding despite language difficulties.
I gave our appeal letter to one of the senior staff who read it, read it again and walked round his desk three times muttering something like "ridiculous". He asked me to follow him to offices on the first floor where he left me in a secretary's office while he went in to see the Director of Customs. They talked in Greek for a while before I was asked to join them in the private office.
The Director asked me if I was living permanently in Cyprus to which I answer yes. He also asked that, if necessary, would I be prepared to pay duty on the vehicle. Again, I answered yes to which he replied that as the car was 9 years old the duty would not be much. We all shook hands, and the deal was done. Within a few days the fee was paid, and new registration plates were fixed to the car and all necessary documents issued and in my possession. The duty was more than I expected but paying it was still a better option than shipping the car back to the UK and trying to sell it. 😊
THE END