IMPORTING A CAR TO UK
The UK import requirements for vehicles can be quite confusing for anyone importing their vehicle for the first time. If you have never imported an auto to the United Kingdom before it's no surprise that the process seems difficult or even impossible. Even after doing your own research, you can't be sure you covered all the important parts.
If you're new to vehicle shipping, you need an experienced shipping company that can show you the options and get it done right. Speak with our Experienced Customer Agents at Trans Global Logistics UK to see that vehicle imports are not so hard after all.
If you are preparing to import a vehicle, you've come to the right place. To help you get started, we have created this guide on the UK car import laws. The following article is not to memorize all the details of the UK import requirements — you can leave that to us — but to get a sense of how everything works and what steps are required.
AN INTRO TO IMPORTING
The UK vehicle imports journey begins with a consultation with one of our Customer Agents. We will need some information on what type of vehicle you have, what country you will be shipping from, and other relevant details. This lets us determine which UK import requirements will apply to your situation.
We will also discuss your timetable, budget, and other priorities. At Trans Global Logistics UK, we have several shipping options to choose from. We'll provide the information, and you'll make the decisions. The most important decisions include:
Mode of Shipping: We offer sea, land, and air options for UK car imports.
Cargo Insurance/Marine Insurance: We'll help you choose the right level of protection.
Type of Storage: Storage options during transit include open deck storage, shared container storage, and private container storage.
We will also help you figure out the exact itinerary from your vehicle, from the point where we pick it up from you (or your agent) to the point where you (or your agent) pick it up.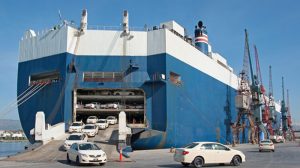 UK HMRC
UK Customs oversees compliance with all applicable UK import requirements. You have 14 days to tell HM Revenue and Customs (HMRC) after you bring a vehicle into the UK permanently. You cannot register the vehicle until you've done this.
THE REASON FOR IMPORTING MATTERS
The reason for importing will influence the import process. UK vehicle imports for personal reasons typically have different fees than items you're importing to resell. E-commerce importers will also have to deal with regulations and charges in place at the point of origin. As you would expect, large items like cars and other vehicles come with their own extra set of UK's import requirements and laws.
GOING "BY THE BOOK"
For a vehicle import to be successful and stress-free we must go by the book. It's extremely important to properly comply with all the various UK import laws for transporting cars and other big vehicles. The rules, regulations and fees for UK vehicle imports vary from agency to agency, country to country and item to item. To make sure there won't be any surprises at the end of your journey
Along with complying with the UK import requirements, the vehicle also needs to be inspected when its imported. An examination will appraise the value of your vehicle, and determine whether it needs specific labelling or has any components that are illegal or prohibited. You can find out more about the specific requirements by contacting our Customer Service Agents.
HOW WE HELP
Trans Global Logistics UK has a list of things you need to know about the UK import requirements, including UK customs import fees, restrictions, and any additional information. You can find more details, including a Customer Guide here.
DON'T BUY A VEHICLE BEFORE YOU KNOW IF IT CAN BE IMPORTED
Want to import a vehicle that you haven't bought yet? Stop. Before buying a vehicle in hopes of transporting it to your country, you need to find out if whether the vehicle can be imported in the first place. Every county has its own rules on what vehicle can be imported into the country. UK car imports must meet strict standards before being allowed into the country. Before purchasing a car, truck, or motorcycle from an international or overseas location, it would benefit you to familiarize yourself with the specific UK import requirements. Otherwise, your new car might get stopped at the border with no hope of entering the United Kingdom.
CONTACT TRANS GLOBAL LOGISTICS AND GET YOUR VEHICLE TRANSPORTED RIGHT
UK vehicle imports are a lot easier with the help of experts at shipping. Trans Global Logistics UK has compiled a summary of UK car import laws, including which vehicles are banned from import. We will take the stress out of your import, and make sure you comply with all relevant UK import requirements.
And then of course is the actual shipping: From the moment you drop your vehicle off with us, to the moment you pick it up, our 30+ years of service in the industry will be hard at work on your behalf:
Trans Global Logistics UK is a fully bonded and licensed freight forwarder and non-vessel operating common carrier (NVOCC).
We own and operate our own warehouses, minimizing third-party control over your vehicle and allowing us to offer more competitive rates.
We have a friendly and professional Customer Services Agents who can help you out at any step of the process, answering your questions and dealing with any issues that may arise. See our perfect 5* Google Reviews.
We offer third-party inspections.
We ship more than 15,000 vehicles a year!
We hope this guide to the UK vehicle import requirements and that overall shipping process has answered some of your questions. When you're ready, reach out to us to start your journey!
Request a free shipping quote today!